On Tuesday, January 24th, at 8 PM ET Wall Street insider Ian King is teaming up with one of America's top data scientists, Keith Kaplan, to bring you…
They'll be unveiling Keith's radical new, cutting-edge system that could help give your stock returns a 10X "boost" … without touching options, futures, penny stocks or anything high-risk.
Ian King here.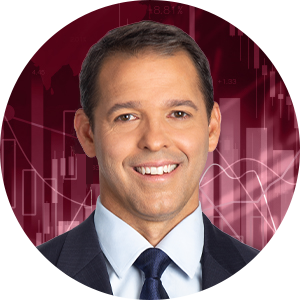 And if you've been following the financial news recently, you know things are pretty rough out there…
Record-high inflation. Soaring mortgage rates. The worst stock sell-off in 50 years.
Well, according to my research, this could be a preview of even more madness that's in store for the markets over the next few years.
You just have to know how to navigate the markets the right way.
And how do you do that?
Well, with everything that's been happening in the markets over the past two years… I recently went searching for the answer to that very question…
I wanted to find the best way to make order from chaos in any market…
A way for my readers to protect themselves from the type of losses we've seen recently, while still giving themselves the opportunity to make huge gains…
And not too long ago, I found what I was looking for.
I came across a man named Keith Kaplan.
Keith's one of America's top data scientists and heads up one of the largest financial data analytics companies in the world.
He and his team have spent over $18 million and 50,000 man-hours developing a system that tracks virtually every asset on the market — stocks bonds, sectors, even the market as a whole — and pinpoints the optimal time to get in and get out for a chance at maximum gains.
It's the type of technology I saw the top firms on Wall Street use when I worked there … but Keith's system is specifically not for Wall Street.
It's for the everyday person.
And it's an absolute retirement game-changer…
And that's because great timing is an antidote to any uncertainty in the markets… 
Think about it … if the market drops 20% like it did last year but you know it's coming beforehand … are you overwhelmed with the uncertainty of the markets? 
Of course not. 
You simply get out at the right time and don't suffer any major losses. 
And on the other side of the coin, if you know an entire sector or an individual stock is about to go on an incredible run, weeks in advance … does the market still appear completely chaotic? 
Again, no, you simply get in at the right time before the big move. 
Not only that, if you time any asset, say a stock with incredible accuracy…
You can actually "boost" your stock gains by
3X, 4X, or even 10X.
Think about making 10X your money on one of your trades without options, futures, penny stocks or any other risky strategies like that.
Heck, you don't even need to buy any new stocks. Just time the ones you already hold, and you could be adding hundreds of thousands, even millions, of dollars to your nest egg.
Keith has tested his system and we've seen it happen time and again.
He's even back tested it on my recommendations and the results were remarkable.
We'll show you the results in a special upcoming presentation we're putting on called "The 1000% Project."
The information we're going to present could help you make massive gains even in the most punishing of bear markets.
That may seem hard to believe…
But that's only because the media has propagandized the public to believe there isn't any opportunity out there.
Every day, dozens of stocks go on incredible runs … and because Keith's system accurately times almost any stock on the market, it can find where they are.
No matter what's going on in the economy, there's always a bull market somewhere … and on Tuesday, January 24th we're going to show you how to find it.
Here's Everything You'll Learn on
Tuesday, January 24th
The revolutionary mathematical formula that can help "time" any stock, fund, market sector, and even the markets as a whole. I was looking for something that could make order from the chaos when it comes to the economy … and this is it.
America has crossed over into a new "age" (an "age of madness" of sorts) in which we're experiencing more technology, more innovation, more globalization, more competition … and more instability than ever before. In the coming years, most folks are going to get blindsided by all the changes that are on the way and lose big time. But, there's one straightforward solution to be prepared for any big market event that's coming over the horizon and we'll reveal what it is.
We'll talk about two of the biggest mistakes that almost all investors make (they're not what you think) and how to correct them. I've made these mistakes before myself and so have famous billionaire investors like Warren Buffett, Bill Ackman, and Seth Klarman. But, Keith has found a way to avoid them. And as a result, you could add a lot more money to your nest egg and sleep a lot better at night.
The one thing that's just as important as timing the market. Other than buying and selling at the right time, if there was just one other thing investors did with their money, they'd be able to retire years ahead of schedule. Yet 99% of investors out there don't do this one thing. Keith will explain what it is and how you can do it with just a few clicks of a button.
How to "bulletproof" your portfolio. The markets can get rough out there. But, for you, they don't have to be. There are three simple steps you can take to "bulletproof" your portfolio to avoid any big losses during draw downs and set yourself up for even bigger gains during the boom times … and we'll go over what they are.
All you have to do to attend the 1000% Project is tune in to this event from any computer, tablet, or smartphone on Tuesday, January 24th at 8 PM ET.
At that time, you'll go to a secure website that will ONLY be shared with you if you enter your email address in the box below.
See you on Tuesday, January 24th.
To reserve your spot, simply enter your email address below: