First Look Inside:
Ian King's Private SPAC Portfolio
See It Before Anyone Else
At This Free Event!
Sign Me Up for Exclusive VIP Access to Ian King's Private SPAC Portfolio Extended Webinar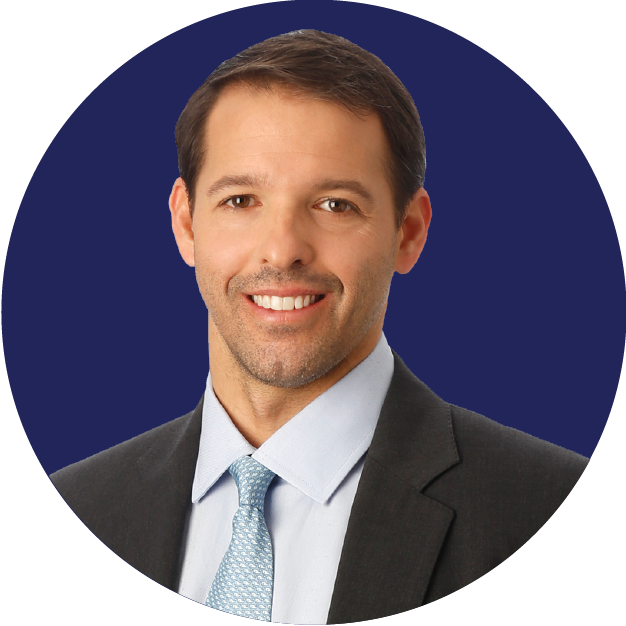 Save the date!
On Tuesday, November 9 at 1 p.m. ET, renowned former hedge fund manager Ian King will be holding a highly anticipated event.
You may know him for the incredible gains he's helped make subscribers of Strategic Fortunes…
A service that has shown readers 735% gains on Tesla in just over one year…
301% gains on Generac in 19 months…
And 780% gains on SunPower in just six months.
Now Ian is going live to reveal his new strategy for targeting one of the hottest investments in the market…
SPACs … also known as Special Purpose Acquisition Companies.
For the past 18 months…
Hundreds of the fastest-moving private companies in the world have been completely sidestepping traditional IPOs.
Instead, they're choosing to go public through a SPAC deal…
And they're doing it at an incredible pace.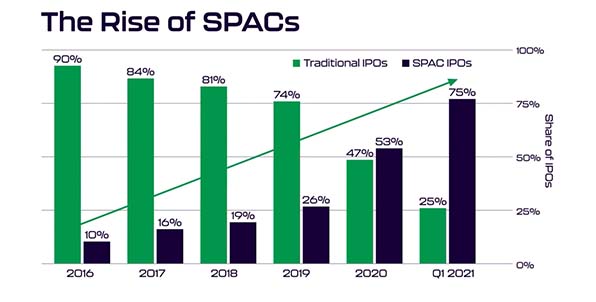 While the number of traditional IPOs has declined since 2016…
The number of SPAC IPOs has skyrocketed.
And they're churning out some of the market's biggest winners like…
502% in a little over a year and a half on Virgin Galactic…
527% in 10 months on DraftKings…
And 1,227% in just four months on QuantumScape.
That's why SPACs are drawing the attention of some of Wall Street's elite investors like…
The founder of Virgin Group, billionaire Richard Branson…
Co-founder of PayPal and early investor in Facebook, Peter Thiel…
Famed fund manager and activist investor, Bill Ackman…
The First-Ever Event of its Kind!
Over the last year, SPACs have dished out some of the highest gains in the market…
That's why on November 9, 2021, Ian is going LIVE with a special extended webinar…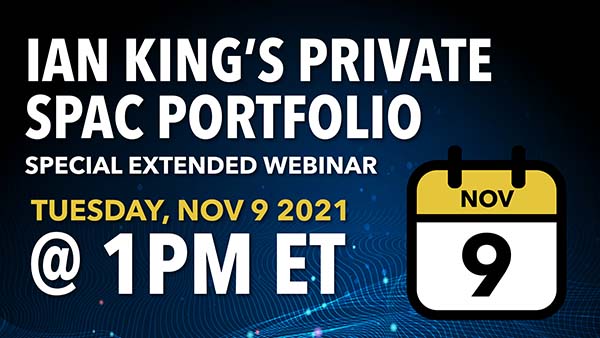 He'll show you...
Why SPACs offer the best "pre-IPO" opportunities for individual investors. While handling billion-dollar debt offerings for Citigroup, Ian got a firsthand look at the IPO process. It's not what most people think it is. He'll explain exactly how IPOs are designed to benefit Wall Street — and how SPACs are leveling the playing field for smaller investors.


The top benefits of SPACs like: Attractive Pricing, the "Profit Trigger" Event and the initial Money Back Guarantee that is written into every SPAC deal. SPACs skyrocketed in 2020 because of continuous improvements in investor protections. By being able to identify these critical elements, you'll have the opportunity to realize gains as high as 1,000% in as little as the next 12 months.


The exact strategy Ian uses to target the SPACs with the highest profit potential. Don't be fooled by D-list celebrities, ex-pro athletes and politicians putting their names on SPACs. Ian will give away his private strategy for finding the right SPACs to invest in now.


Why you can't just go out and buy any SPAC to get the most out of this epic run. There are more than 700 private companies sitting on the IPO sidelines. All told they're worth over $2.3 trillion. And many of them will choose to go public via a SPAC merger. Ian put together this extended webinar to make sure his readers know the benefits and the potential pitfalls associated with SPACs. You'll get both in this presentation.


An opportunity to save BIG on our latest research. You could go out and invest in these exciting opportunities on your own. But if you don't know what to look for, retail investors could be putting their fortunes and futures in danger. That's why at the end of this extended webinar, you'll have the chance to get details on three of Ian's favorite SPACs to invest in right now.


And he's inviting you to enjoy exclusive, first-look VIP access to this event.
Please, keep in mind that spots are extremely limited!
Just leave your name and best email address, and your early access spot is locked in.
Here's What People Are Saying About Ian King
"Thank you for giving a first-time investor some picks for success. I bought and made 126% before I sold this month."

— Joe Schneider
"A 92% gain in about two weeks. Thank you for your recommendation! It certainly paid for two years of service."

— Joanna Hill
"Sold less than half my shares for a whopping 172% return in 250 days. Trades like this make my retired life in tropical Thailand a true paradise!"

— Matt Bailey